Academy Mission
The Rising Stars Academy's main focus will be to develop boys and girls ages 6-12. We provide dedicated and committed young people the opportunity for character growth and excellence through athletics. We create an emotionally healthy and physically challenging atmosphere embodied by favorable sportsmanship and athletic activity. We will foster a healthy competitive environment while teaching respect for others and fair play
The pursuit of group and personal excellence through soccer has three objectives:
1. Developing leadership and teamwork skills.
2. Creating a life-long passion for physical activity.
3. Experiencing the joy of the struggle to pursue ones full potential.
We believe that each of our players is unique, and we set individual goals and objectives for each of them. We demand commitment, hard work, integrity, and personal responsibility. Through the development of skills, tactics, and teamwork we intend to experience the joy of learning and working together. We measure achievement not in terms of win/loss record, but in terms of individual growth and personal bests. Character development is our most important goal.
The scope of our development will be to educate and challenge our athletes within the five pillars of the game: Technical, Tactical (Principles of Play), Physical, Psychological, and Social. We have designed a Player Pathway which is organized specifically for each age group and gender. This pathway will help our professional coaching staff implement our curriculum. Our goal is to develop technically gifted athletes who will use creativity and improvisation to guide their way through the beautiful game.
There will be three main areas upon which our coaching paradigm will be based.
1. Technique (touch)- Creative repetitive exercises that cultivate technical proficiency.
2. Kinesthetic Awareness (Physical Literacy)- The breaking down of the complex mechanical movements of the human body in a multidirectional plane to ensure injury prevention and maximize physical potential.
3. Information Overload (Minds Eye)- Exercises that develop quick and accurate decision making in highly pressurized situations.
Once our athletes graduate from the Academy, they will be comprehensively prepared for the next level, our Competitive Program.

Registration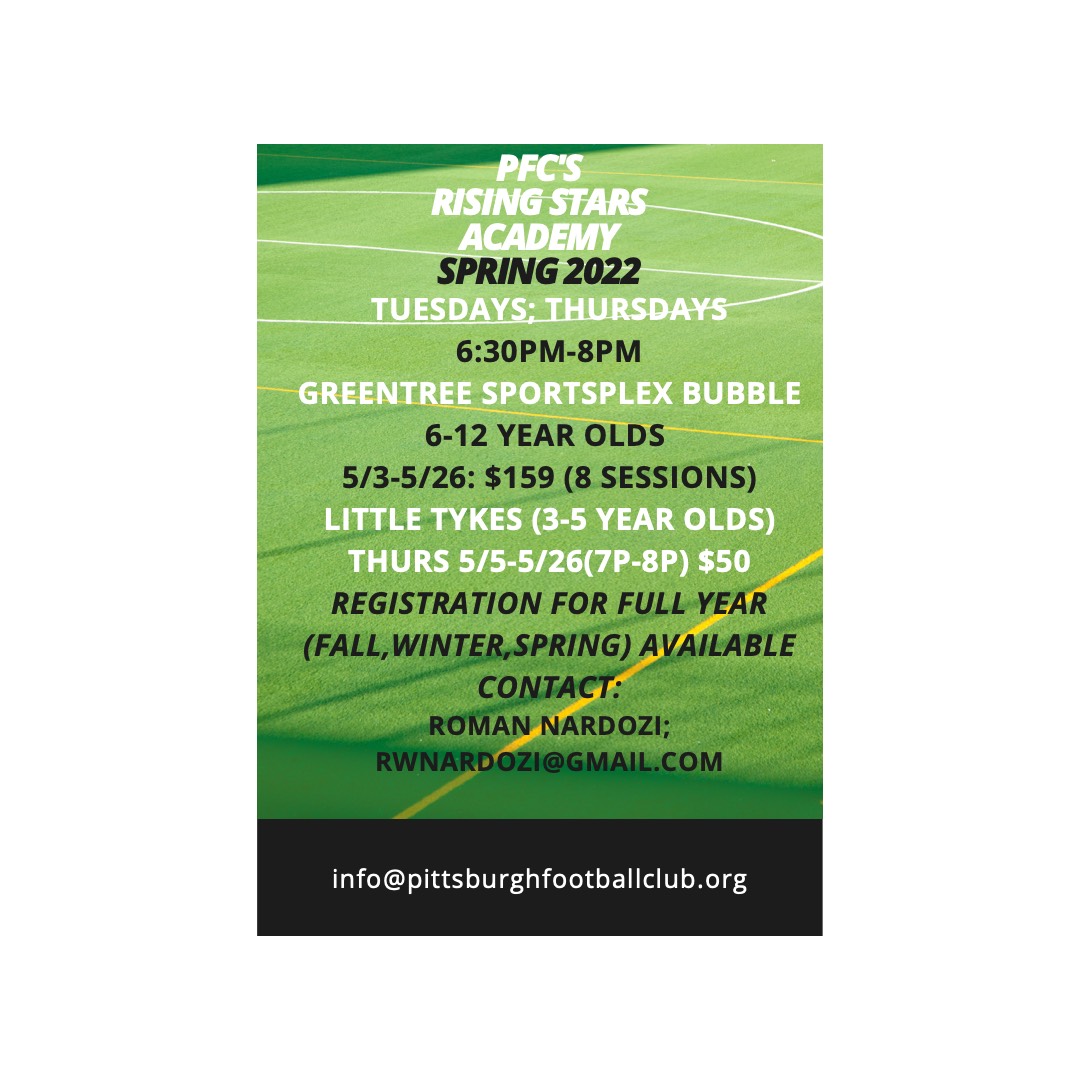 **Sibling and PFC sibling discounts available**
**$20 off for referring a friend to Rising Stars; $10 off for referring a friend to Little Tykes**