Coaches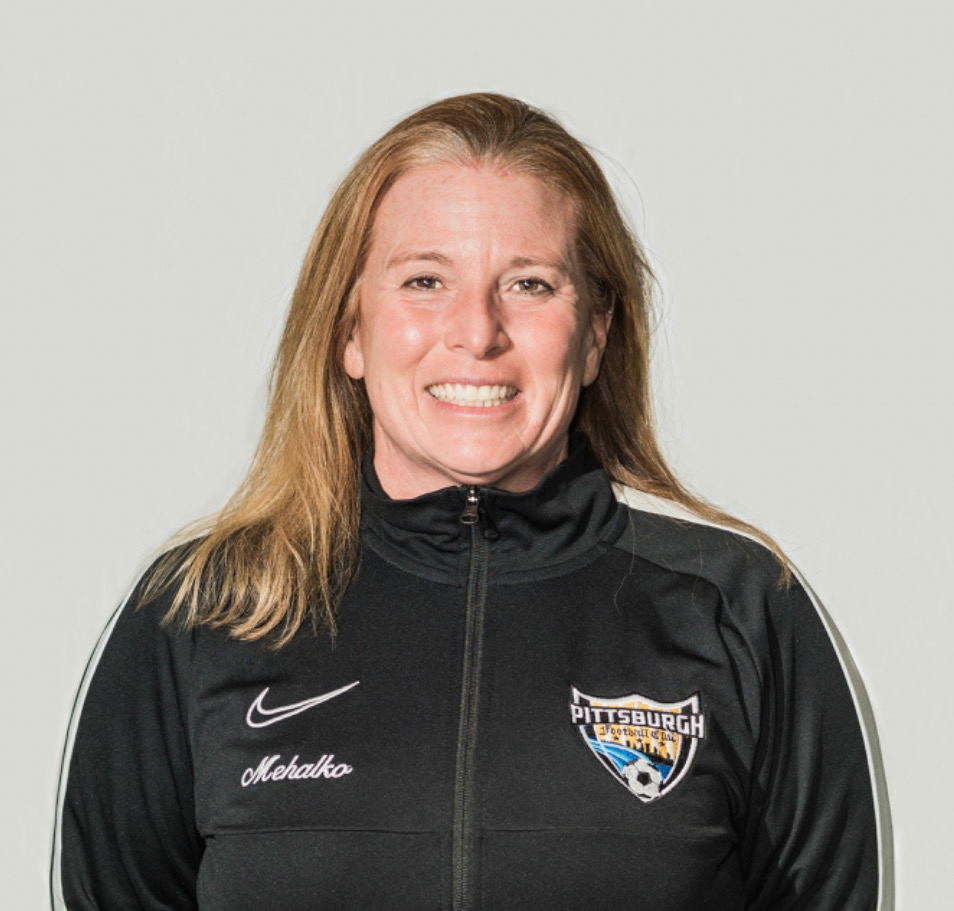 Kelly Mehalko
Coach Kelly has been coaching and developing players in the Pittsburgh area for 35+ years. Along with her current responsibilities at PFC, she is the 2010/2011 girls head coach for the PA West Olympic Development Program and is the 2005 USYS East Region Olympic Development Assistant Coach.

Her background includes working with soccer athletes ages 3- 30 from recreation through the semi-pro level, coaching various club teams to becoming a State Finalist or Champion.

Coach Kelly holds a U.S. Soccer National B License (currently pursuing A license), USYS Youth National License, USC Goalkeeping certification and various coaching certificates from the United Soccer Coaches. Mehalko is also earned her U.S Grassroots Instructor License. She is a U.S Grassroots Coaching Instructor as well the Chair of the Youth Advocacy Committee for United Soccer Coaches and member of the U.S.C., a member of the Positive Coaching Alliance, and is the Founder and President of the PA Womens Coaches Association. She earned a bachelor's degree in Human Ecology from Mercyhurst University in 1990 where she also played college soccer.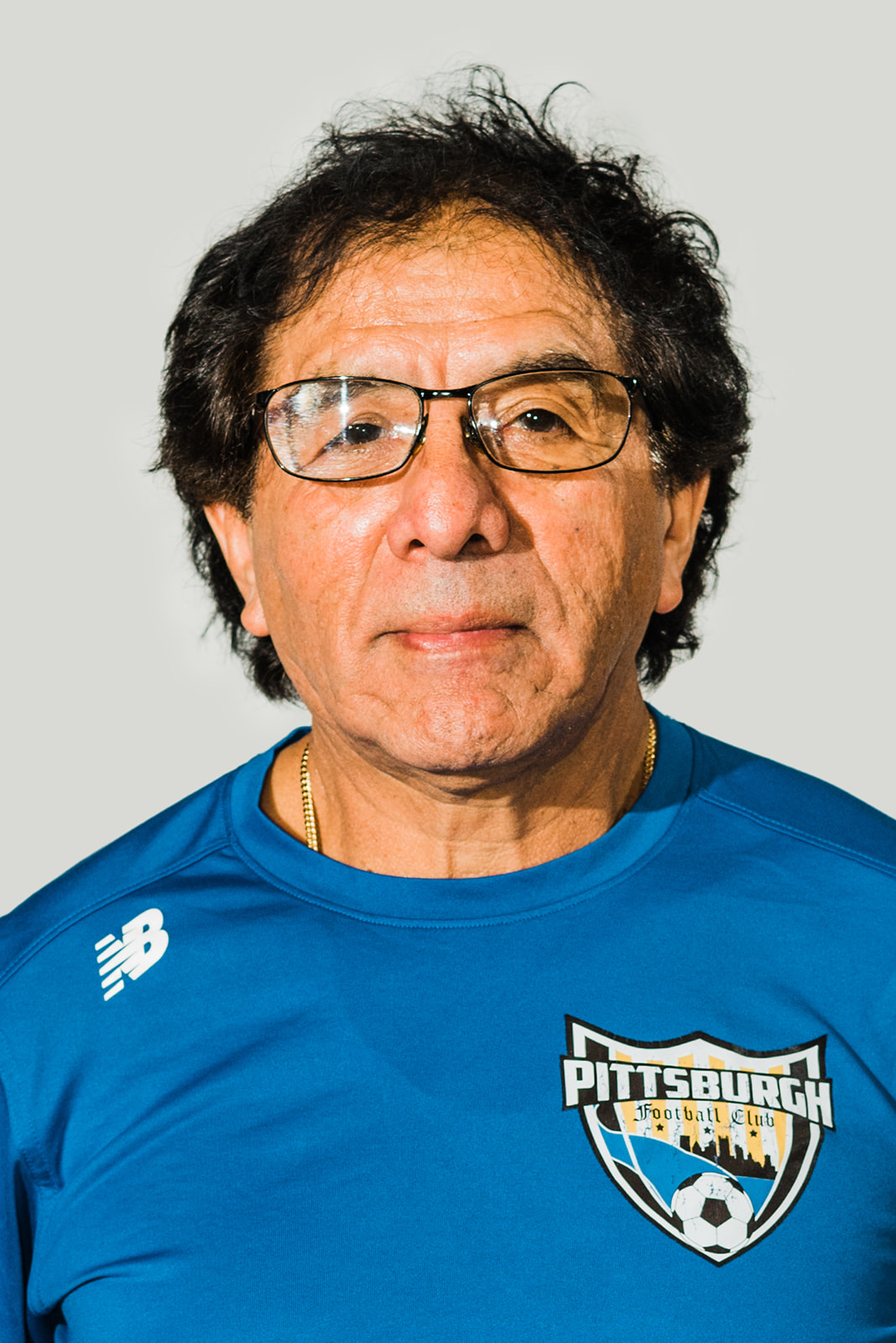 Gaulberto Carhusalla
Coach Gaulberto's playing experience includes being the Captain of State Championship Team, 1967-68, Antabamba High School, Antabamba, Apurimac, Peru, South America, Junior Division, 1968-69 Sporting Cristal professional soccer team, Lima, Peru, University of Pittsburgh 1973-75 and Pittsburgh Indoor Spirit Soccer team, 1978
Coach Gaulberto's Coaching Experience includes Bethel Park High School Girls' Head Coach, 1983-85, 1988-1992, Mt. Lebanon High School Girls' Soccer Head Coach, 1986 record season (23-0), Ranked nationally in 1986, two All-American players were selected from this team. Head Coach for Century V cup soccer, 1995-2001, State Championship all six years. Century V reached the regional quarter-finals twice, in 1997 and 1998 ODP Guest Coach for Mid-Field play, 1997 and 1998. Adult Men's soccer team Oakland Soccer Club, player/coach in exhibition tournament, Dominican Republic, 1982. His most recent Coaching Experience is PFC Girls' Soccer, 2009-2011, PFC Girls' Soccer team 2013 -2017 We reached the President's Cup regional tournament two times, 2015 and 2016 Pittsburgh Dynamo Soccer U-11/U-12 team
Coach Gaulberto is a native of Apurimac, Peru, a Pittsburgh resident since 1971. Married with four adult daughters. Director of Banquets at the David L. Lawrence Convention Center in downtown Pittsburgh. He holds an 'A' License, USSF and the Advanced National Diploma, NCAA. He is currently the head Coach of the PFC 2007 Girls team.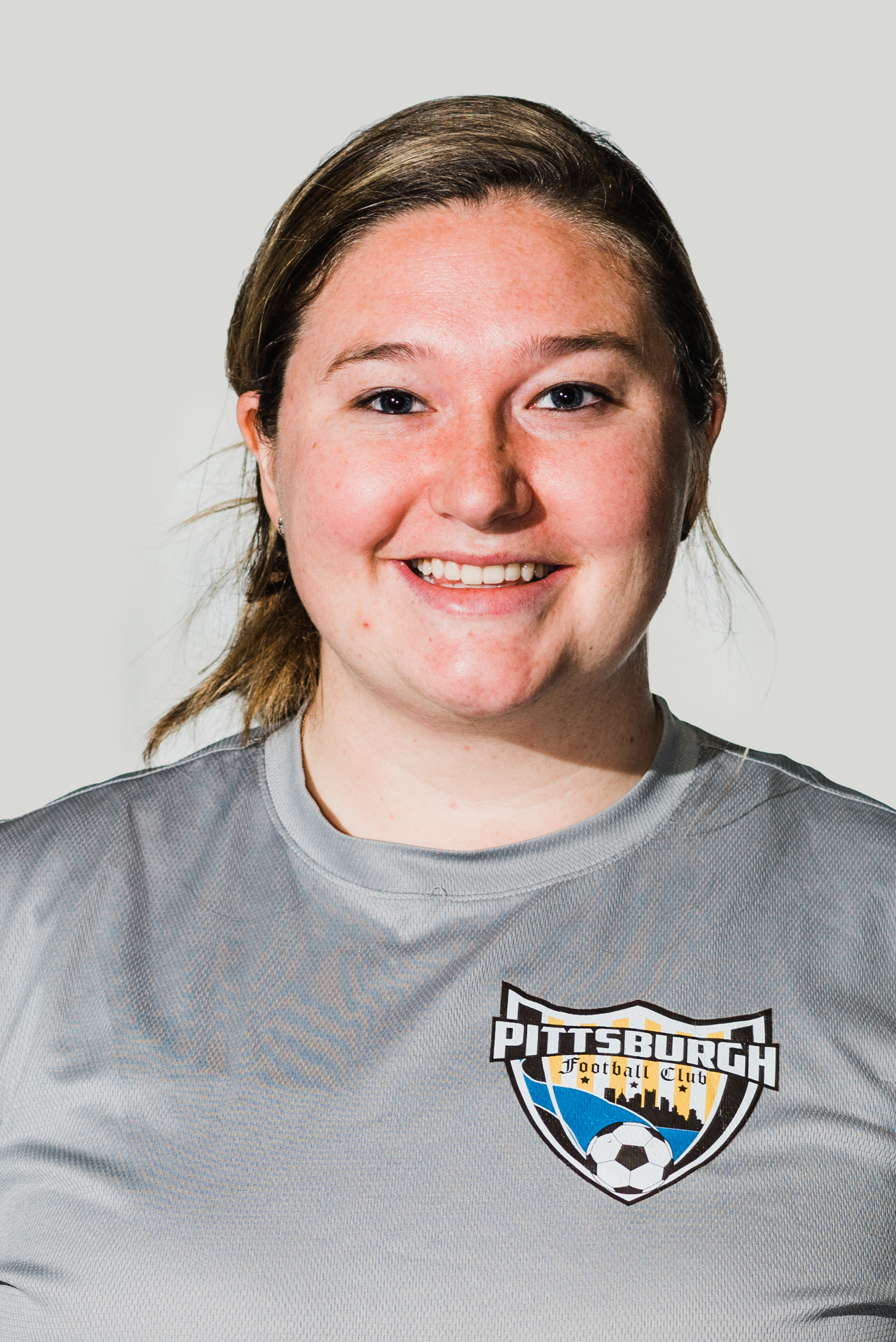 Sarah Ellis
Coach Sarah has played for Canon McMillan Soccer Association- 1998-2011, Pittsburgh Football Club 2007- 2011, and Chatham University- 2011- 2015
Coach Sarah's background includes working with female soccer athletes ages 5-19 from recreation up to and including club level. She has been coaching for Pittsburgh Football Club for over 7 years. Prior to her time with PFC, she coached two Canon McMillan Youth Soccer teams, the Pink Flamingos and the Purple Butterflies (U10 players picked the names).
Coach Sarah's coaching philosophy is to create a fun, challenging and interesting environment that encourages player development in a safe way. She will bring endless passion and energy to every practice, game, team activity, etc. She will take the time to reflect on an experience (practice session or game), and challenge herself to make it better. She will hold herself accountable, and she will also hold her players accountable to the highest standards of sportsmanship and safety. She will never place winning above player development or doing the right thing.
Coach Sarah holds the following licenses and certifications. U.S. Youth Soccer National Youth Coaching Course, USSF D License, USSF National License, CPR & First Aid Certified.
Coach Sarah graduated from Chatham University where she earned a Bachelors degree in Biology/Chemistry with a Minor in Public Relations in 2015. After graduation, she accepted a Chemist position with Mylan Pharmaceutical Inc in Morgantown, WV. When she is not working or coaching, she enjoys playing with her two adorable pups, Luna and Albert. She also enjoys renovating her home with her husband. She states that her home renovation is a never-ending project.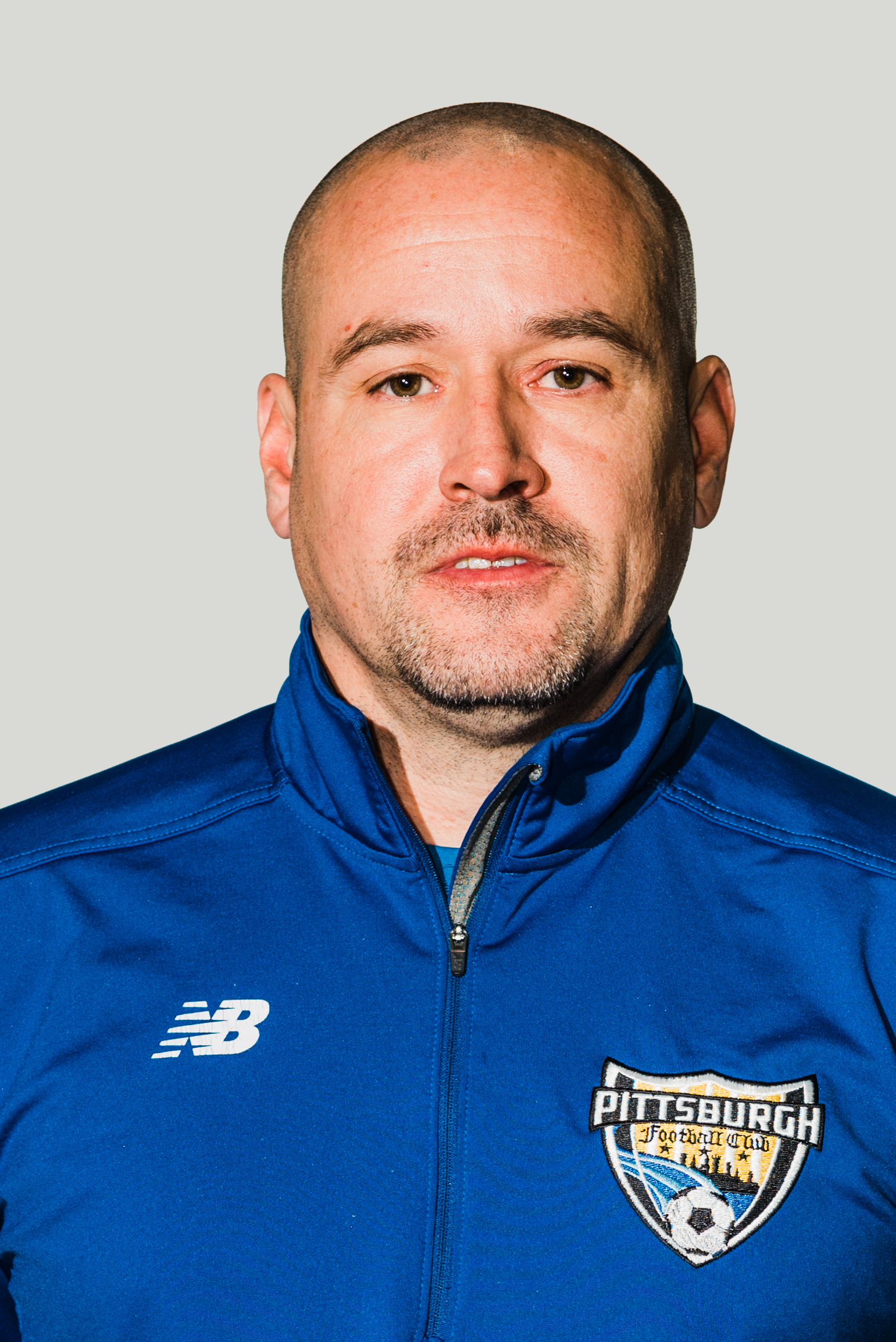 Jim Van Kirk
Coach Van Kirk, who has nearly 20 years of coaching experience, began his coaching career in 1997 at his alma mater, South Allegheny High School, coaching the girls' program. In 2000, he was hired at Keystone Oaks High School as an assistant for the boys' team and was later the head coach at West Mifflin Area High School for the boys' soccer team for three seasons. Coach Van Kirk is also the Penn State Beaver Men Head Coach and Director of the PFC Junior Academy. Prior to joining PFC, Coach Van Kirk was with 3 Rivers Soccer Club.
Coach Van Kirk is a member of National Soccer Coaches Association of America and currently holds a National level license with the NSCAA. Coach Van Kirk is the Head Coach of the PFC 2005 Boys team Email Coach Van Kirk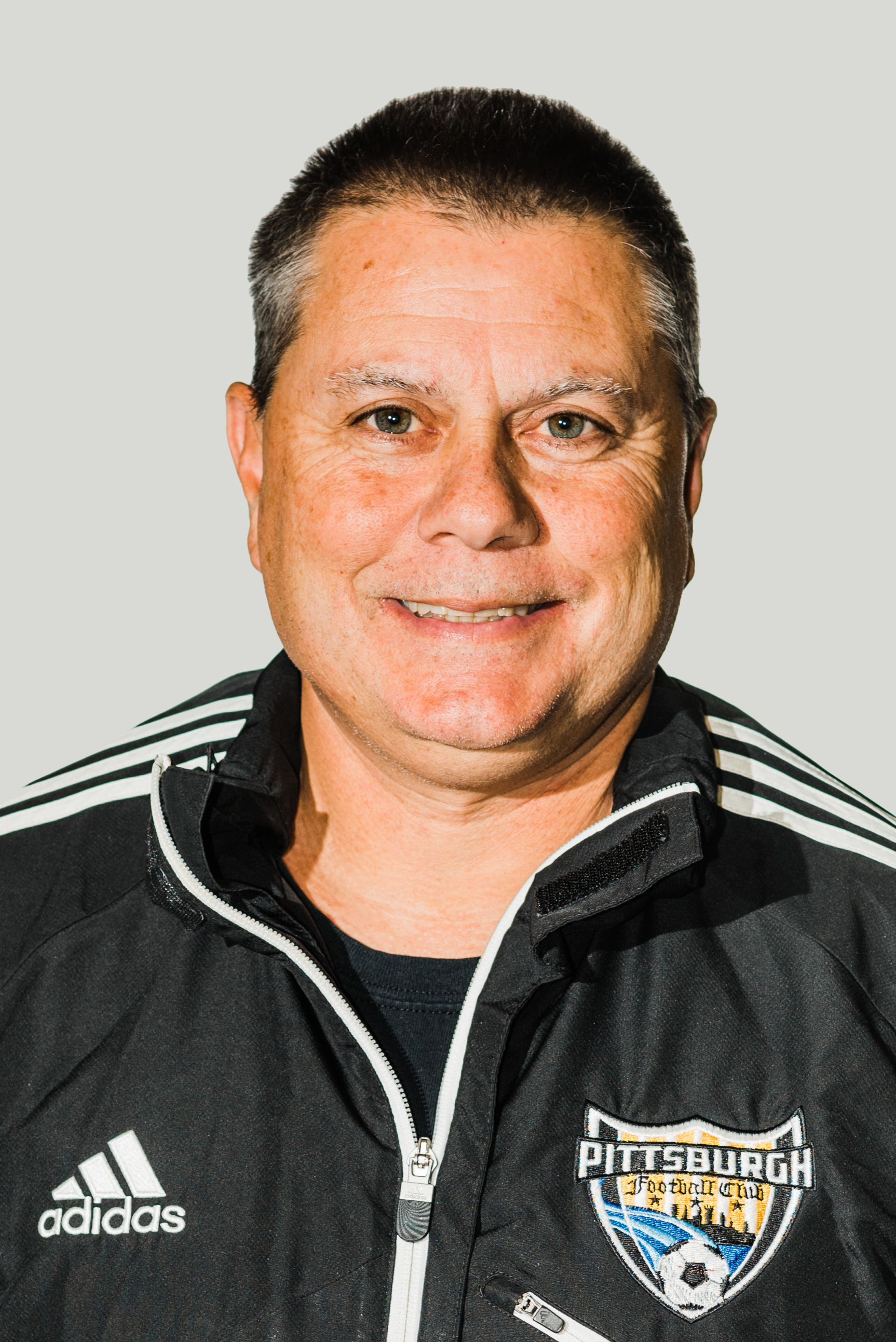 Ron Lupori
Coach Ron has been involved in professional coaching for 28+ years. This includes 20 years of CUP experience coaching both boys and girls with 11 of those years here at PFC. Coach Ron also has a total of 14 years of High school coaching experience also with both boys and girls programs throughout this period of time. Additionally, Coach Ron has coached 5 years and 4 seasons at Waynesburg University as the Mens Assistant Coach. Finally, Coach Ron has been involved throughout with various camps and clinics in the area.
Coach Ron has vast playing experience. He has played 4 years at California University of Pennsylvania. He played 21 years in the GPSL with the Dunlevy Redbirds Men's Team as well as 10 seasons in the premier division with the Mon Valley over 30 team. Currently Coach Ron is rostered with the Mon Valley over 40 team.
Coach Ron has a current C license with the USSF and an Advance National Diploma with the NSCAA. Moreover, he has been named to the Charleroi High School Hall of Fame and the Charleroi High School All Half Century Team. Coach Ron earned a Doctorate in Educational Leadership. His doctoral research was focused on character development of the student athletes.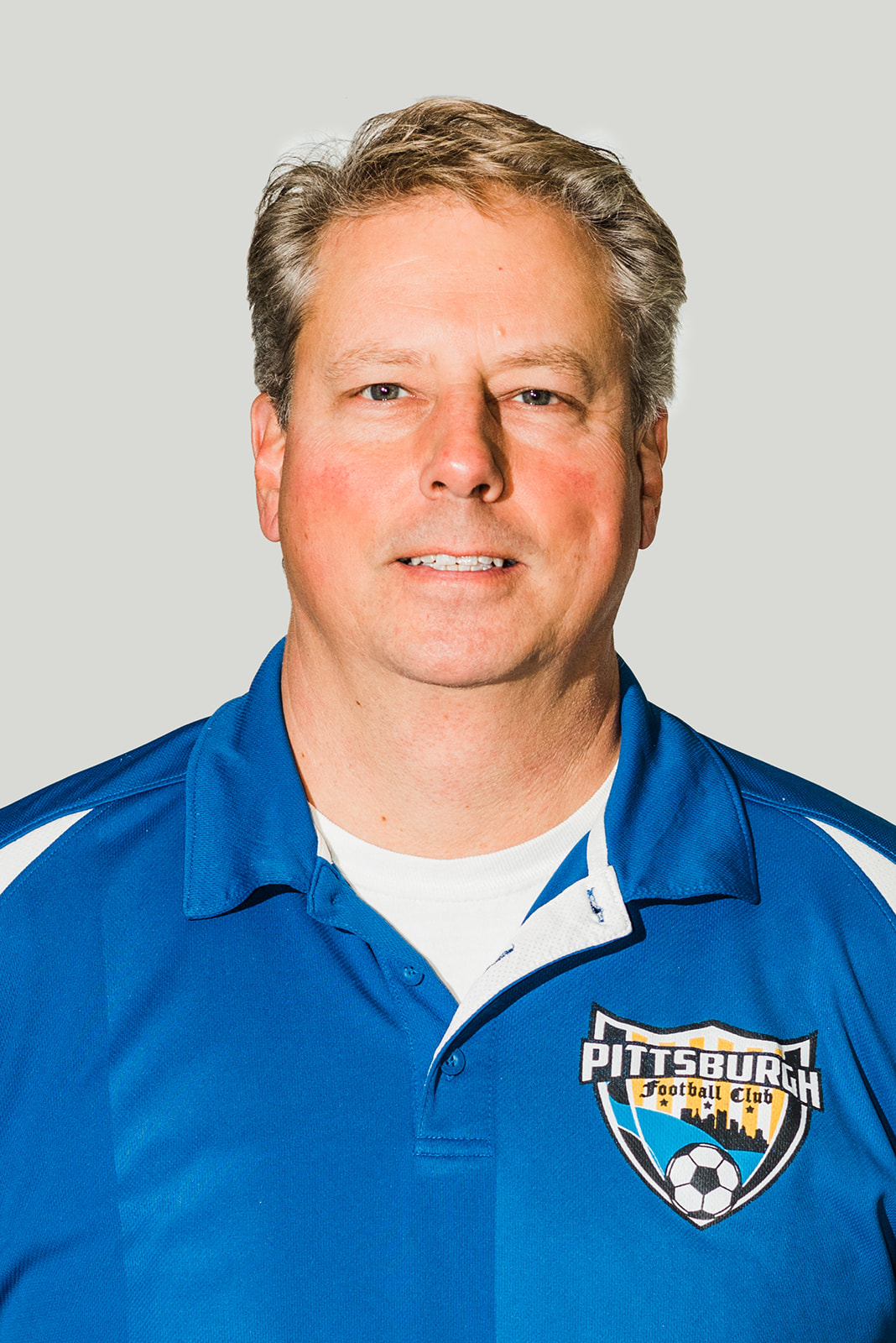 David SInclair
Coach Dave has been a youth coach for 20 plus years and a youth soccer coach for over 19 years. His soccer education began in the PFC junior's program learning with our Director of Coaching. That experience led Coach Dave to form the 97/98 PFC Girls at U11 and he was head coach until U18 and helped 10 of them play in college. Coach Dave has also been an assistant on the 2002 PFC boys and is currently the 2003/2004 PFC Girls head coach. He is currently the Girls Head Coach at Trinity High School, where he has led the program to four straight playoff appearances.
Coach Dave is a member of the National Soccer Coaches Association of America and holds a National D License, National Youth License, State E License, NSCAA Level VI course, Goalkeeping Level II, Mental/Physical Player Development Diploma, CDC, "Heads Up" Concussion Certificate and a Nation Federation of High School/NSCAA Professional Development Certificate. In an effort to "always keep learning" the game of soccer, he has also attended 10+ NSCAA Coaching Conventions. Email Coach Sinclair
Olivia Wilkerson
Coach Olivia has been coaching since 2015 when she started with the California Middle School team.
She joined the coaching staff of PFC in Fall 2015, with the PFC 2004/2005 Girls team. She has also been
the head coach of the 2008 Girls team since 2019. She played cup soccer for Foothills Soccer Club from 1999-
2003 and finished with STM in her 2003-2004 season. Coach Olivia played collegiate soccer for
Westminster College from 2004-2007. She is currently the Head Girls Coach at Ringold High School
since 2019. She was National Finalist for â??Double Goal Coach Award 2017-2018â?? & was PFC Coach of
the Month November 2017. Coach Olivia holds the US Soccer National â??Fâ?? License, National â??Dâ??
License, National â??Câ?? License, NSCAA- GoalKeeper Level I & II Diploma & the Heads Up! Concussion in
Youth Sports Certification. She has NASM Speed and Agility Certificate Level 1 & 2 and Corrective
Exercise. Coach Olivia has a Bachelor of Science â?? Exercise Science in May 2020 from California
University of PA. Coach Olivia has graduated with a Masters of Science â?? Sports Psychology &
Rehabilitation from California University of PA in December 2021. She also received her Futsal Level 1
Roman Nardozi
Coach Nardozi began his playing career in 1994 with the Keystone Oaks Soccer Association. He played with KOA through 2004. He then played for Keystone Oaks High School during his time there from 2002 until 2006. He also played for Three Rivers Soccer Club for multiple seasons.
After graduating from IUP with a Bachelors degree in Secondary Social Studies Education he was hired as the head coach for the Keystone Oaks Middle School soccer team from 2011-2013. He then moved to Baton Rouge, Louisiana to continue his teaching career where he also coached both the Boys and the Girls soccer teams at McKinley Middle Academic Magnet as the head coach from 2014-2017. During this time he joined Baton Rouge Soccer Club as an Academy coach while also being an assistant to some competitive teams. His final year in Louisiana he was the head coach for the Girls Varsity soccer team at the Dunham School.
In moving back to Pittsburgh he served as the head coach for the Carlynton middle school soccer team.
He is the Director of the Elite Development Academy and the end Coach of the 2009 Girls team with Pittsburgh Football Club and He is the Head Coach for the Keystone Oaks Lady Eagles Varsity soccer team. Coach Nardozi currently holds his USSF C license as well as his National Youth license. Contact Coach Nardozi
Contact Coach Nardozi
Ryan Gaudy
In his day job, Coach Ryan is an Electrical Engineer. Coach Ryan had a very successful soccer career playing for STM Soccer Club (2001-2007), Peters Township High School (2003-2007) and at Waynesburg University (2007-2009). Some of his achievements include Waynesburg University - Team captain 2008 2009; All-conference selection 2007, 2009; All-tournament team, JCU tournament 2009; Peters Township HS - Senior captain; #1 ranking in WPIAL; Two time WPIAL 2nd place; Two time State quarterfinalist; 2007 WPIAL player to watch; STM Soccer Club - PAWest State Cup 2nd place (U18); 2007 Nike Cup College Showcase Premier (top) Champions(U18); 2006 PAWest State Cup 3rd place (U17); 2002 PAWest State Cup Champion
Coach Ryan started coaching in 2013 and currently holds a USSF 'E' License, an NSCAA Level 1 Diploma: Stage 4 and a National D License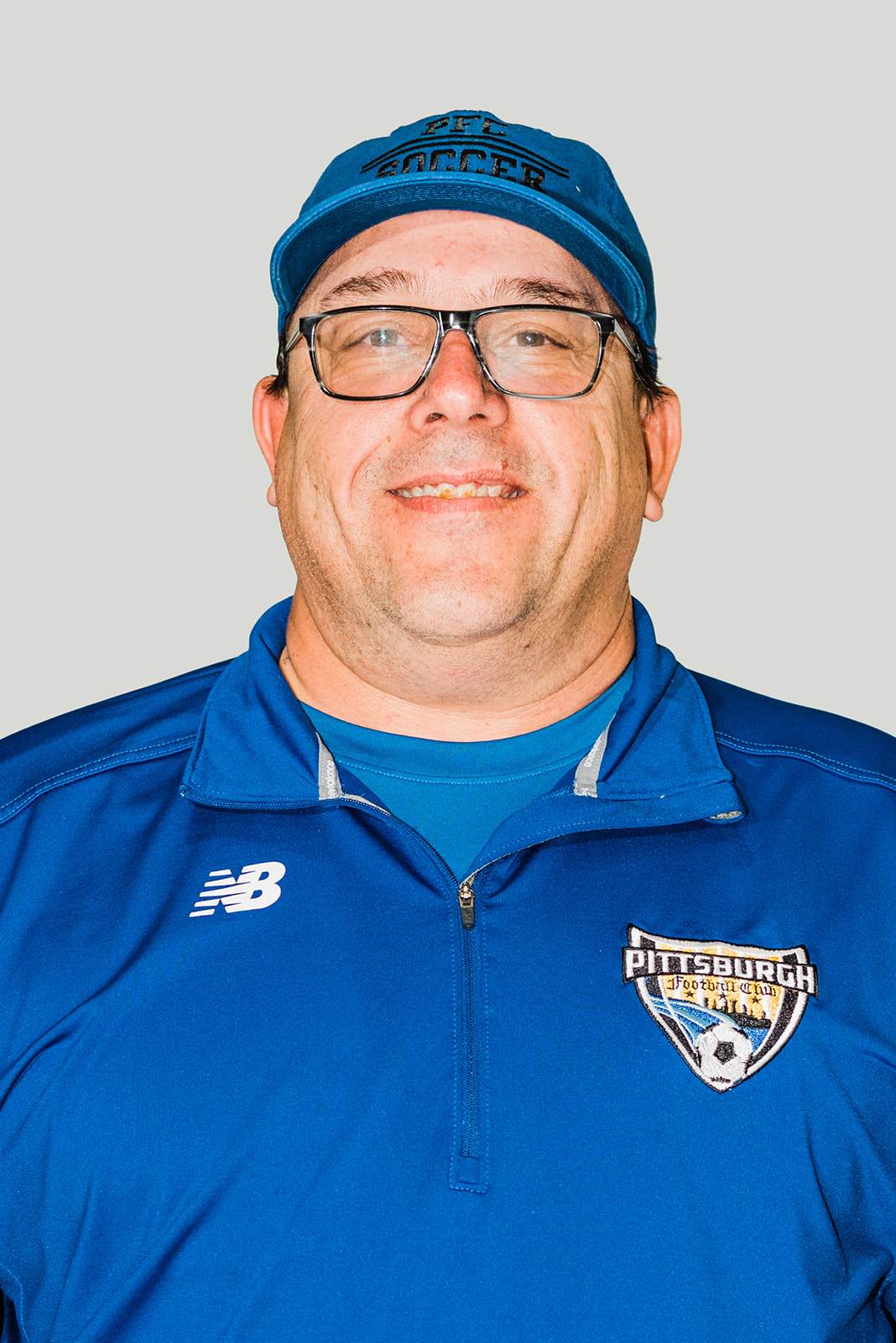 Rob Diluca
Coach Rob has been a youth coach for over 15 years and coaching soccer with PFC for the last five. Coach Rob and his wife Annie live in Scott Township and their two children Devin & Jake. They both play soccer in middle school, high school, Chartiers Valley Soccer Association & PFC. Coach Rob is currently the President of Chartiers Valley Soccer Association where he has been involved in many positions since 2004.
Coach Rob holds many coaching accreditations including NSCAA certificates that include a diploma in Attacking principles of Play & Defending principles of play. Coach Rob holds a USSF 'National D License, Youth modules 6-8 & 8-10 and due to the constantly changing world of soccer and evolution of today players, Coach Rob is a member of National Soccer Coaches Association of America where he has attended week-long NSCAA coaching conferences to continue to learn from professionals such as Tony DiCicco and Anson Dorrance.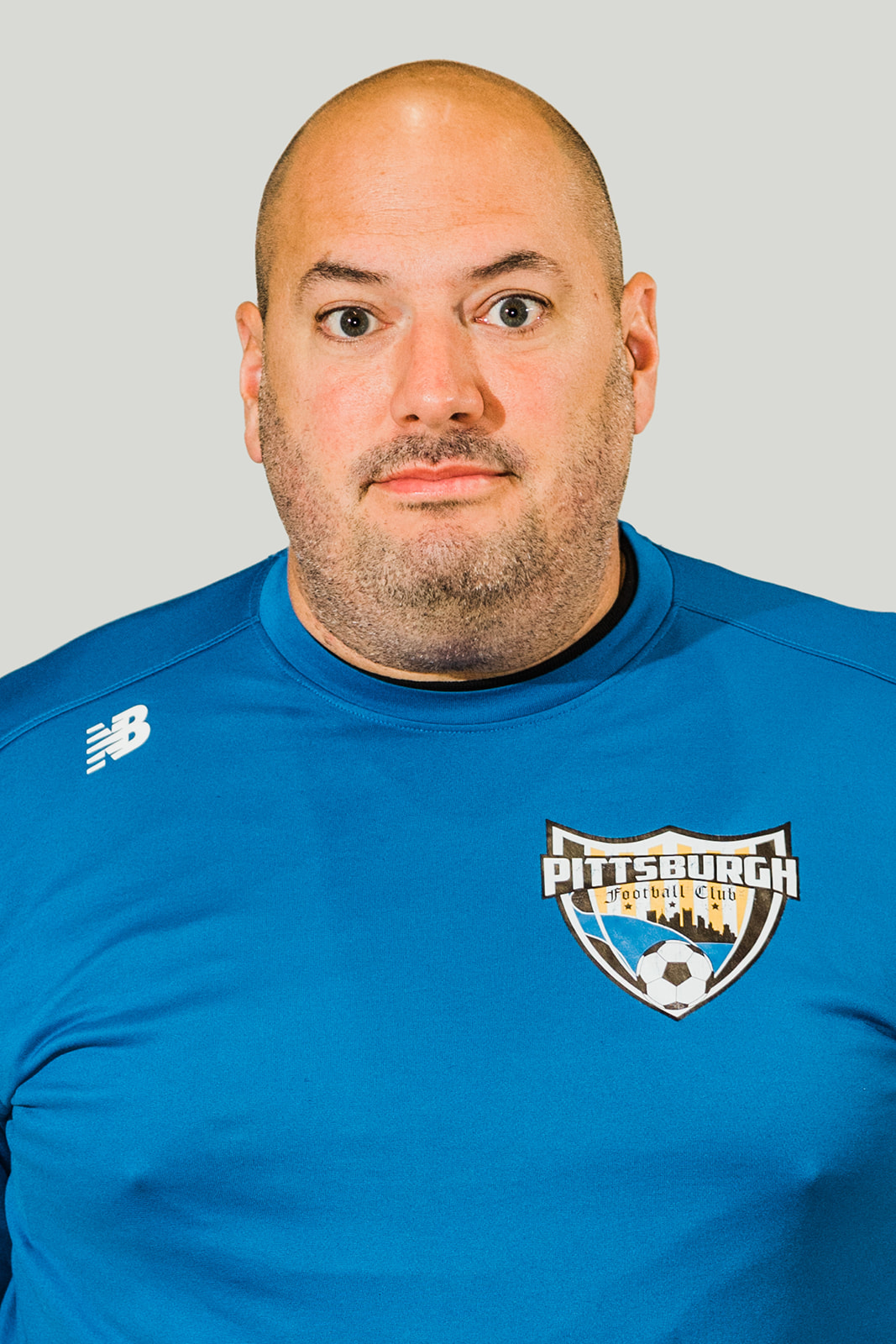 Anthony Frisoli
Coach Anthony has been a youth soccer coach for over 8 years and is currently coaching soccer for PFC for the 2020-2021 season. Coach Anthony coached youth soccer at Mt Lebanon & Baldwin Whitehall Soccer Association and currently at Jaguars United. He currently lives in Jefferson Hills with his wife Amanda and four daughters Sierra, Eva, Olivia & Jessa. Sierra and Olivia currently play soccer for Jaguars United & PFC. Coach Anthony is currently involved in many positions in Jaguar United such as U6 coordinator & coach and webmaster. He is also a travel U12 assistant coach for Jaguar United. Coach Anthony holds a U.S. Youth Soccer National Youth Coaching Course, USSF License and his National D License. Coach Anthony has a Bachelor Degree in Computer Science from Carlow University.
Coach Anthony encourages the players to have fun and learn positions they have never tried before. He makes it a safe environment and encourage them to step out of their comfort zone and expand their talent. He can make learning fun and also knows when to be serious. He watches out for the players well being and safety.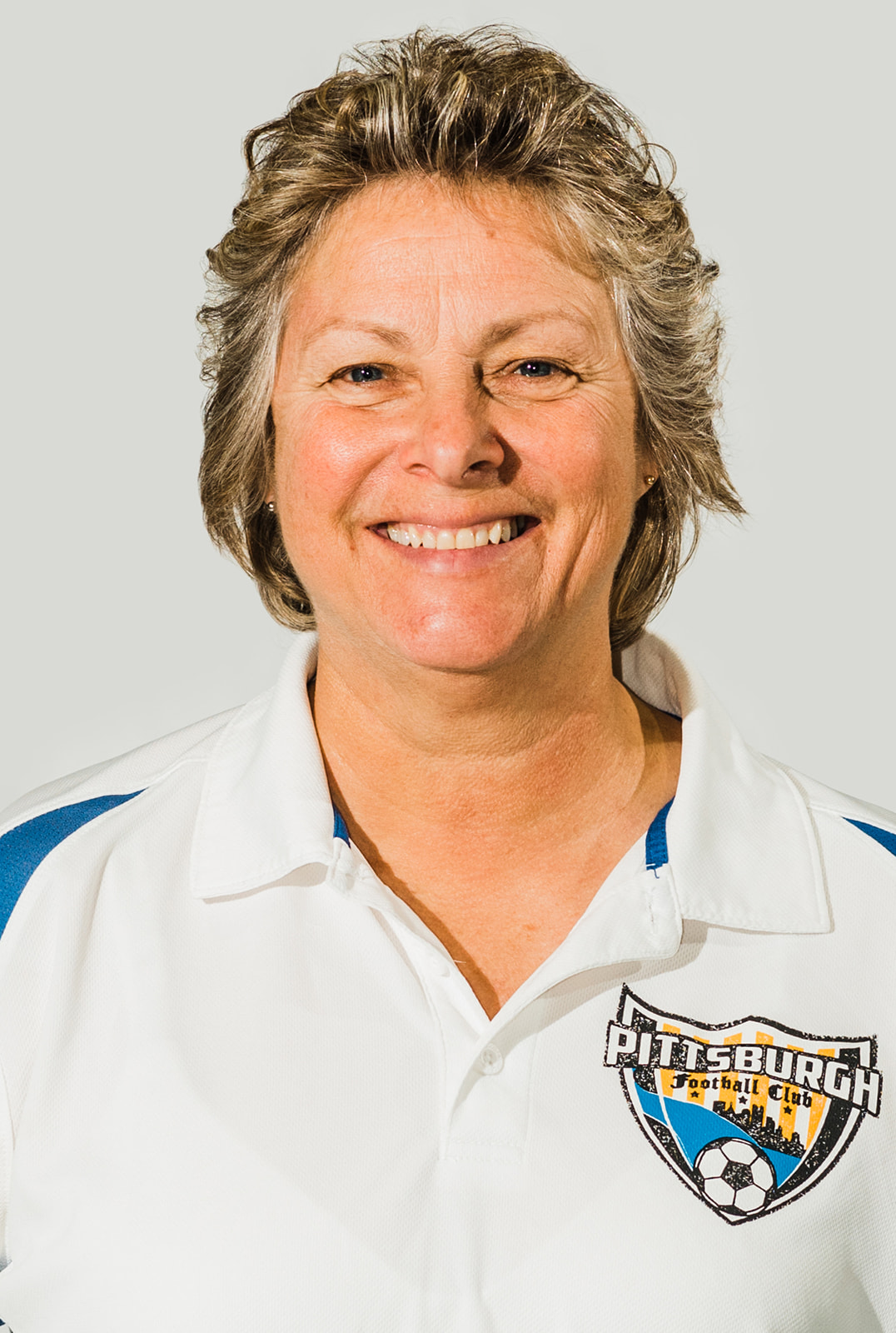 Dean Mathies
Coach Dean has been coaching for 25+ years and is co-head coach of the PFC 2008 boys's team. He is currently the Ringgold Middle School Head Girls Coach and has coached boys middle school and high school in Ringgold.
Coach Dean holds a USSF E license (working toward earning his U.S. National D). He also holds a United Soccer Coaches Regional Diploma and United Soccer Coaches Advanced National Diploma.
Seth Madjerick
Coach Seth has been coaching for 10 years and is co-head coach of the PFC 2008 boys team. He is currently the Boys Head J.V coach and Assistant Varsity coach at Central Catholic High School. Coach Seth has also coached with Century V, St. Elizabeth and B.W.S.A. He is currently playing in the men over 40 league and has been a member of Tartan Devils FC and Geneva College soccer teams.
Coach Seth holds a U.S. National D License and a United Soccer Coaches Goalkeeping Diploma.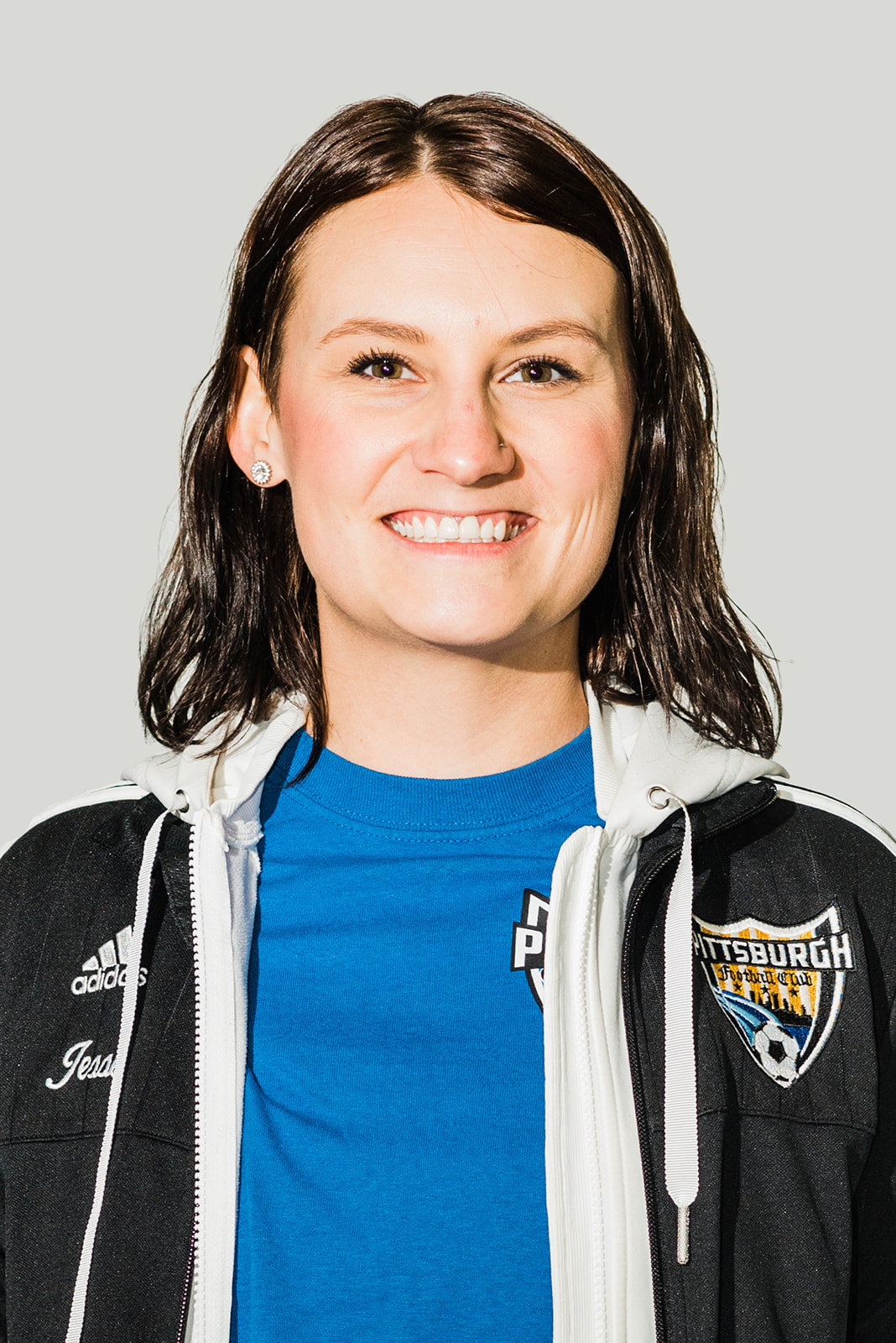 Jessica Sinclair
Coach Jessica has been playing soccer since she was 6 years old, which included playing for the Chartiers Valley travel (8yrs), middle school (2yrs), and high school (4yrs) teams. She also played for Pittsburgh Football Club (5yrs), and collegiately at Wittenberg University (4yrs). The experiences of playing for a multitude of coaches has helped Jessica become very knowledgeable soccer coach.
Jessica was the Graduate Assistant Soach for Chatham University Women's program for both the 2017 and 2018 Seasons.
Coach Jessica holds a USSF F License ,National D License; Concussion in Sports and Sudden Cardiac Arrest Certifications. She also recently received her B.A. in Psychology from Wittenberg University, with minors in both Art and Health Science; She is a 2019 Graduate of Chatham University with her Masters in Communications.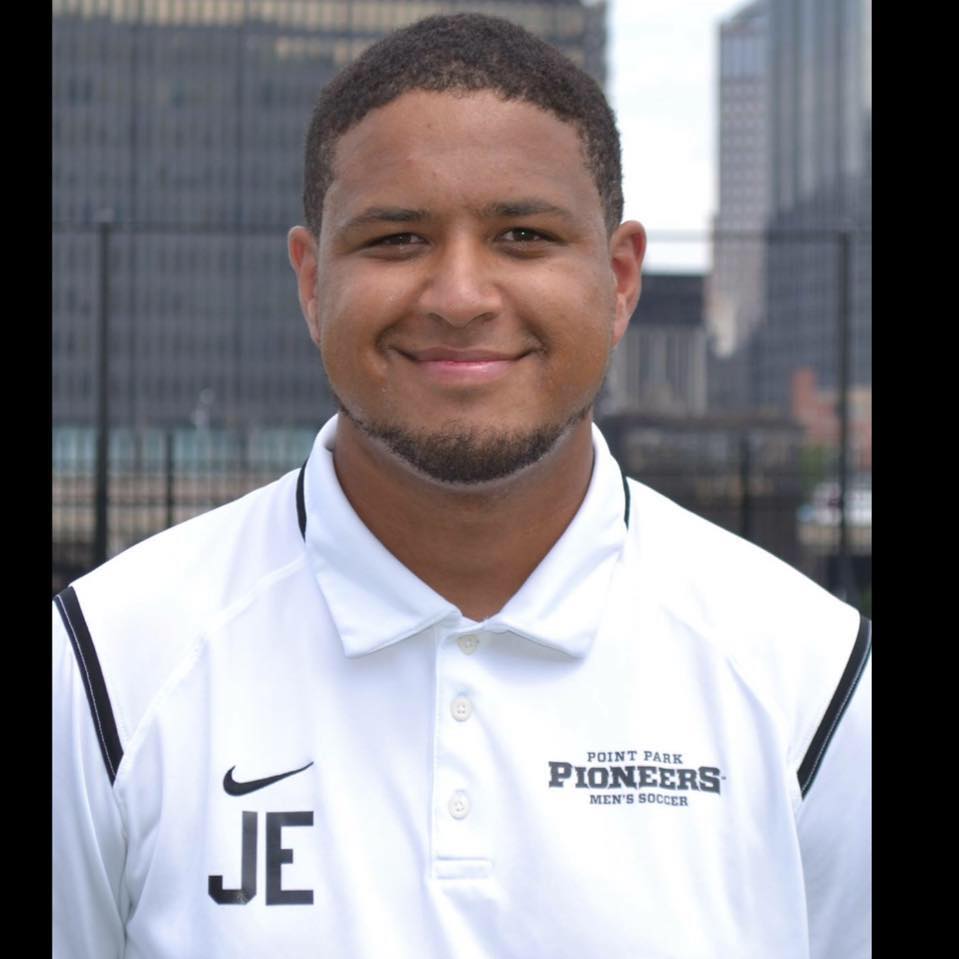 Jason Edwards
Coach Jason, has been coaching for the best part of the last 10 years both here in the US and his home country in the UK. Working for Welsh Premier academies in Wales and other programs before moving over to the US in 2013. Since coming to the US, Coach Jason has gained valuable experience coaching at High School level, Collegiate and ODP. As well as working supporting cup level and being a Director at Classic Club level.
Adam Young is an assistant coach at PFC, working with the '06 Boys team. He currently holds a D-License from US Soccer and a variety of certifications from United Soccer Coaches. Prior to coaching for PFC, he coached at Mt. Lebanon High School and with Beadling Juniors.
As a player he was a member of 2010 WPIAL champion Mt. Lebanon Boys Varsity Team and has played for a variety of club teams.
He favors a patient attack style based around ball possession, individual and team technical ability, and a defensive style based around fast pressure to quickly regain possession.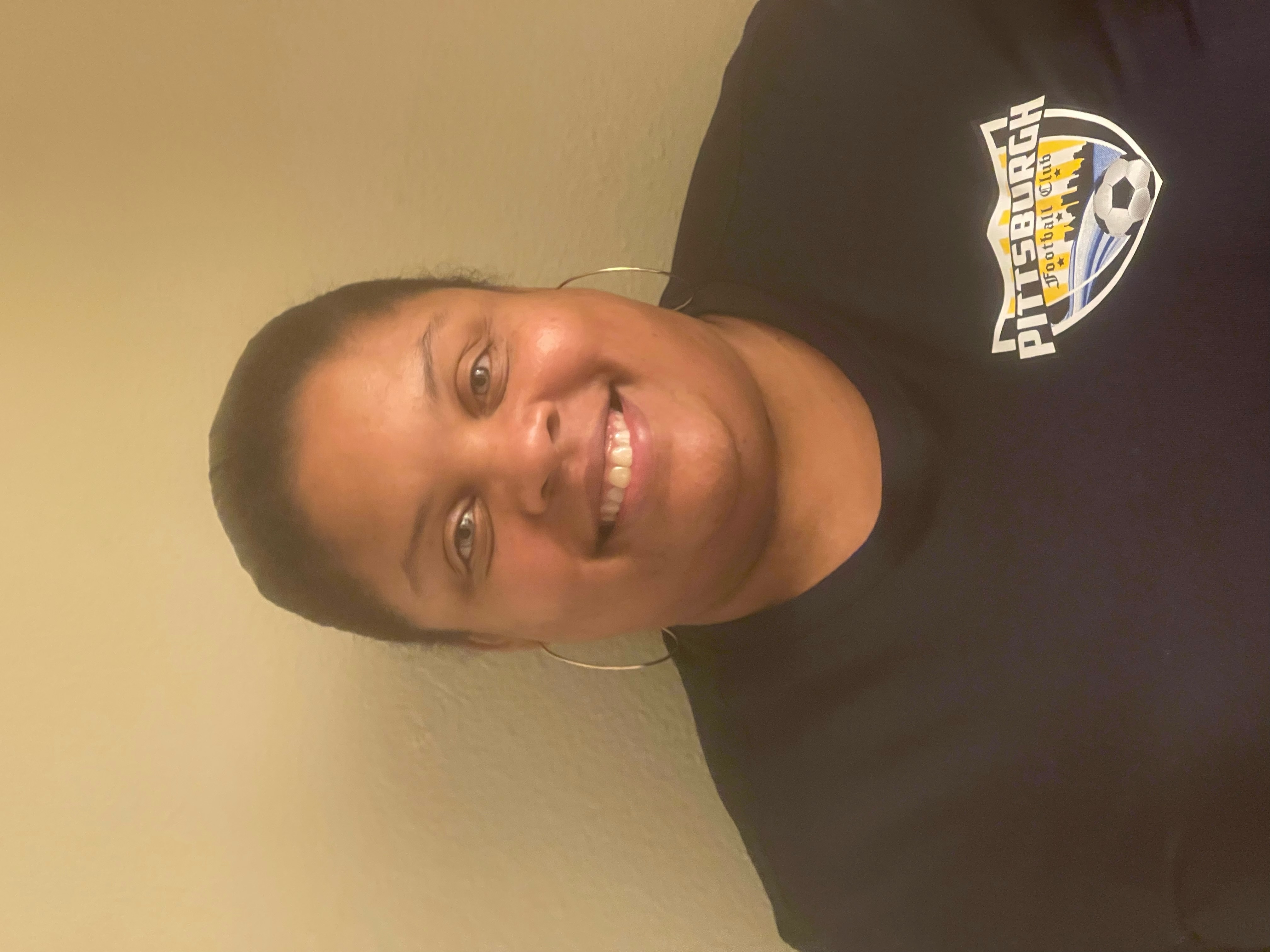 Erin Cook
Coach Erin is the head coach of the PFC 2011/2012 girls team
Coaching Qualification:
USSF National D License
USSF National E License
USSF National F License
USSF National Youth License


Coaching Experience:
Assistant Coach, Carlow University (2020- Present)
Pa West ODP Coaching Staff (2020- Present)
Head coach/Assistant Coach, Allegheny Force SC (2019- 2021)
Head Coach, Penn Hills Middle School (2019- 2020)
Head Coach Beadling SC (2018-2019)
Assistant/ Head coaching Foothills SC (2005-2018)
�?�· Goalkeeping Coaching South Fayette (2017-2018)
Assistant Coach Yough (2011-2014)
Other Qualifications:


MBA in Business Organization- Point Park University
B.S in Sports Management- California University of Pa
4 Year starting Goalkeeper at Penn Hills High School
3 Year Starting Goalkeeper at California University
Coaching Philosophy:
I have been coached, mentored and raised by amazing coaches who always taught me about hard work, Discipline and passion for my craft and education as a student-Athlete. Because of them and their teachings I have had success as a player and as a coach. Teams that I have worked with alongside my dad (Ron Cook) and Sister (Brie Cook) I continue to teach the same lessons in each of the players and their development.
Success is no accident. It is hard work, perseverance, learning, studying, sacrifice and most of all, love of what you are doing.
Brie Cook
Coaching Experience:
Foothills Soccer Club Staff coach (2016- 2018)
Beadling Soccer Club Staff Coach (2018-2019)
Allegheny Force Football Club Staff Coach (2019-2021)
National D license
College:
Clarion University of PA-2016
California University of PA - Graduated 2021
Playing Experience:
Foothills Soccer Club (2008 - 2014)
Barbarians FC

( 2x Regional Futsal Champion) (2010- 2011)

Clarion University of Pennsylvania Women�??????�?????�????�???�??�?�¢??s soccer -2016
High School:
Penn Hills High School, Pittsburgh Pa.
Forward/Midfielder
4 year varsity player
All-Section (freshman, sophomore, junior, & senior) 2011-2014
All WPIAL - (Junior & Senior )
Pittsburgh Post Gazette girls soccer player of the year -2014

Player to watch 2013 & 2014

86 Career goals
Coaching Philosophy : My coaching philosophy is to have an environment that encourages athletes to learn and develop on and off the field and to create a positive learning environment. I also believe that playing sports as a child not only builds character and confidence but also gives a sense of accomplishment.